Synopsis
On the edge of adulthood, Alma leaves her mother's home in the Netherlands and travels to her native Bosnia to visit the father she's never met. But from the start nothing goes as planned. Her cousin Emir gives her a frosty reception and mocks her easy life in the West. At the same time, undeniable sexual chemistry leads Alma into a passionate relationship with Emir's best friend, the troublemaker Denis. As the obstacles mount, Alma stays fearlessly determined to follow her plan and find her father. She just has to figure herself out first.
---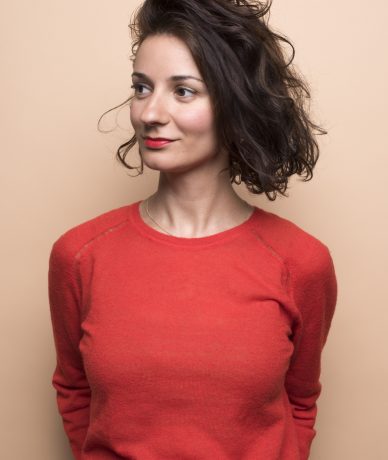 Ena Sendijarevic
Ena Sendijarevic is an Amsterdam based filmmaker of Bosnian origins. She studied Film Studies at the University of Amsterdam and the Freie Universitat Berlin, before graduating from the Netherlands Film Academy as a writer/director in 2014. She directed several successful short films like Travelers into the Night (2013), Fernweh (2014) and Import (2016). Her work has traveled to international film festivals, including Cannes Directors Fortnight, TIFF, IFFR, Palm Springs, Message to Man, taking home numerous awards. Import was nominated for Grand Jury Prize (Short Film) at 11th FIRST International Film Festival. Her latest short film was the official Dutch short film entrance for the Oscars 2017. Ena has been invited as jury member in multiple film festivals. Take Me Somewhere Nice (2018), her debut feature film, premiered in the Tiger Competition at the 2019 International Film Festival Rotterdam.
---
Director's statement
Take Me Somewhere Nice tells the story of a teenage girl, struggling with her identity. She finds herself constantly navigating between opposites: New or Old, Mother or Father, West or East, fast sex or everlasting love, Masculine or Feminine, Dutch Calvinism or Bosnian Islam, iPhone or wild nature, European passport or Yugoslavian soul.
What does it mean to be in-between in our ever-globalizing world? I asked myself during the process of making Take Me Somewhere Nice.
Take Me Somewhere Nice is a highly personal, semi-autobiographical, intuitive expression of the loneliness of the in-between human being. To find an answer to these questions, I went back to the country of my origin to seek out the ruins of my connection to this land, and to be as honest as I could possibly be about them.