Synopsis
In Irénée-les-Neiges, a small, isolated town with a population of 215, Simon Dubé dies in a car accident. The stunned townspeople are reluctant to discuss the circumstances of the tragedy. From that point on, for the Dubé family as well as for Mayor Smallwood and a handful of others, time seems to lose all meaning, and the days stretch on without end. Something descends slowly upon the area. In this period of mourning and in this fog, strangers start to appear. Who are they? What is happening?
---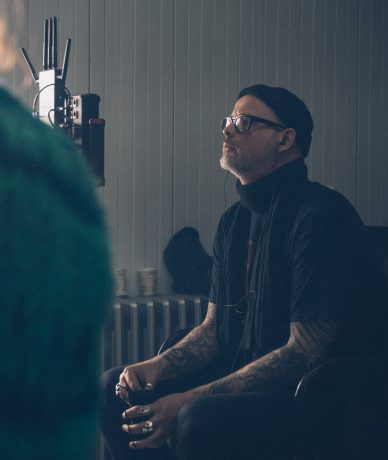 Denis Côté
Since 2005, Denis Côté has gained a solid reputation as an independent filmmaker on both the local and international scenes. After directing many short films and working a few years as a journalist and film critic (1995-2005), he makes his feature film debut with Drifting States. In 2010, Curling wins the Best Director and Best Actor awards at Locarno. In 2012, Denis Côté offers a film-essay entitled Bestiaire, that receives unexpected praise (over a 100 international festivals) and is theatrically released in France, the US and Germany. In 2016, Boris without Beatrice is selected at the Berlinale. Denis Côté continues in 2017 with a film-essay on the world of bodybuilding: A Skin So Soft is selected for the International Competition of the 70th Locarno Film Festival. Since 2009, Denis Côté's work has been the subject of some twenty retrospectives around the world. Ghost Town Anthology is his 11th feature film.
---
Director's statement
Present-day Quebec. I feel as though people today are very afraid of losing the sense of comfort that my homeland offers. This fear presents itself in various ways, and our resistance to change is fierce. The rise of populism in the media, the migrant crisis, the reluctance to be open to other people and identitarian closure are all themes that interest me. Laurence Olivier's book is a poetic collection of slices of life and disjointed stories, and I tried to keep its spirit. Changes and tears in the social fabric are fascinating phenomena, and I designed a story with holes in it where the supernatural could creep in, bringing multiple anticlimaxes. It's not a complex script, but I enjoy playing with tone; I like when things aren't easy to define or categorize.
Essentially, I wanted to write a script about the Other and the fear it inspires.