Synopsis
This is a story about a medieval nobleman lost in the woods and out of water, deciding to ask a peasant passing by for some water to quench his thirst.
---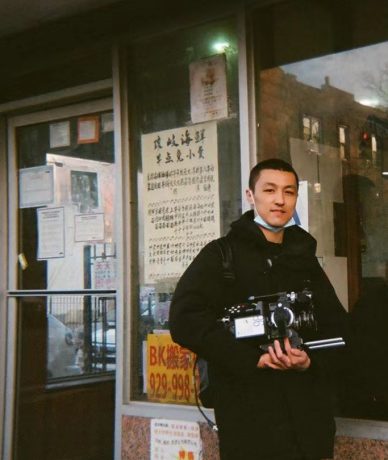 Lu Xiaomeng
Lu Xiaomeng is from Beijing, China. He is currently in his third year in the MFA Film program at Columbia University. In his films, sex, politics, and religion are inseparable foundational elements. His work explores the deformities of characters' inner thoughts being trapped by their social identities, and focuses on characters who struggle to express themselves in a reasonable state. Xiaomeng's undergraduate thesis film THE DISCREET APPARITION OF LIBERTY screened at Anthology Film Archives in New York City for the New Filmmakers Festival in 2019.
---
Director's statement
The protagonist had a seemingly simple goal—to find water to drink. However, he went through several twists and turns, and the simple goal was still hard to achieve. My inspiration comes from the unconscious feelings in life. Sometimes, when I wake up from my dream in the middle of the night, I feel very thirsty and want to drink water. But at the same time, the dreams try hard to pull me back to sleep immediately. I always struggle to decide between getting up to have a drink or getting back to sleep to continue the incomplete dream. The simple and straightforward feelings inspire me to create a story. The protagonist wanted to complete the simple task of drinking water but always failed to do so, as he was always being interrupted by unreasonable and unexplained reasons.